With Follow Me drone technology, the UAV is programmed to automatically follow you around, giving you plenty of opportunities to film unique aerial shots.
At present there are 2 types of drone Follow Me technology. Here, we look at the technology used in drones that follow you.
Then, we review the 12 best follow me drones on the market right now, with some terrific videos along the way.
We review drones which follow you from DJI, Walkera, Yuneec, AirDog, Hover and more, including Skydio and Autel, which are pretty new manufacturers of tracking follow drones.
Drones that follow you came on the scene in 2016 and the follow me innovation has continued ever since. Generally, drones with follow me GPS mode, also have other intelligent flight systems (Orbit, ActiveTrack, Points of Interest, Waypoints, Circle, Terrain Follow etc) giving you even more flying and filming options.
Having a drone that follows you has great benefits, including capturing great moving selfies with your loved ones or capturing your adventures in very scenic locations.
At present, we are also seeing athletes, cyclists and mountaineers use follow me GPS drones to film from various angles with the ultimate goal of improving their technique.
Flying using the drone in Follow Me mode is also terrific fun. Follow me mode is pretty amazing technology.
Most of the drones featured below are being used professionally as they have exceptional cameras and stabilization. You can read further on these terrific uses for drones. The article includes excellent videos.
Having a drone that follows you along with having a 4k camera, then you know you will capture the best film and still photos of your adventures. To go with this article, also check in on our article of the best 4k drones on the market.
Follow Me GPS Drone Technology
Follow Me is an intelligent fight mode which turns your drone into a hands-free aerial camera crew. We are now seeing 2 types of Follow Me technology in use. There is the GSC with Follow Me GPS transmitter technology and the latest using recognition software such as DJI ActiveTrack.
Drone That Follow You Using GPS Transmitter/ GSC
Quite a few follow me mode drones use a GPS enabled device such as a mobile phone, tablet or a Ground Station Controller (GSC), along with a transmitter (wearable transmitter or mobile phone). The drone is programmed to follow the transmitter and to keep the subject in the picture at all times.
Follow me technology creates a virtual tether between the drone and a GPS-equipped mobile device, which allows the drone to track you or another subject in motion. Most Follow me UAVs, can also remain stationary and track the subject by rotating, or it can move along with the subject.
Here are 3 drones with use GPS Transmitter devices to allow the drone to follow you;
Skydio 2 Follow Drone
Holy Stone HS700 Ophelia
Holy Stone HS270
The above drones that follow you are featured further down. You wear a GPS device called the AirLeash and the drone tracks that device. The AirDog will takes off, follow you and it also lands autonomously.
The new Skydio 2 drone has a number of ways to fly. One of these methods is through carrying the Skydio 2 beacon and the drone will track the beacon. Now the Skydio is highly advanced and using an intelligent visioning system to follow you and also avoid obstacles. More on the fantastic Skydio 2 follow drone below.
Other drones such as the Holy Stone HS700 Ophelia and Holy Stone HS270 drone have basic follow me mode. They use the GSC as the transmitter. So the drone is basically programmed to follow the transmitter in the remote controller and to keep the subject in the picture at all times.
Drone That Follows You Using Recognition Technology
The latest follow drones, which use vision sensors and recognition technology along with software algorithms are as follows;
Skydio 2
DJI Mavic Air / Air 2
DJI Mavic Pro
DJI Mavic 2 Pro
DJI Mavic 2 Zoom
DJI Phantom 4
Yuneec Typhoon H
Yuneec Breeze
Hover Follow You drone
Walkera Scout X4
Walkera Vitus
Autel Evo
Sensors and recognition technology, along with software algorithms give UAVs the ability to recognize and follow a person or object. This deep learning following drone technology allows the UAV to track a moving subject without a separate GPS tracker.
You can see from the above list that DJI are the leading manufacture of drones with follow you technology.
In DJI quadcopters, the software is called ActiveTrack and is built into the DJI Pilot Go 4 App and Assistant software for the Phantom 4 and Mavic quadcopters. The latest ActiveTrack 2.0 on the Mavic 2 quadcopter can recognize up to 16 separate objects on screen. You then choose the object or person to follow on screen in the DJI Go 4 app.
Drone Follow Me Software
The software to program Follow Me is generally built into the overall drone application. DJI have their GO 4 App. The older 3DR drones which are no longer manufactured used their SOLO App and the Arducopter d-i-y drone uses Mission Planner software.
Other manufacturers build the follow me mode software into the Ground Station Controller (GSC) such as Walkera. With a couple of clicks you program what you want to follow or track.
The software is pretty sophisticated using algorithms and calculations to track and keep the object in view at all times. Most Follow Me applications allow you to program the gimbal and camera with preset flight distances, height and angles giving your video very unique cinematic perspectives.
Follow Me Distance
Each UAV manufacturer use different ranges with their follow me technology. It is probably best to keep the distance short in the beginning as you get to know your drone. If too much distance is allowed between the GSC and the transmitter, the two could lose their connection.
With DJI, drones such as the Phantom 4, the GPS is very strong at a height of 30 meters (98.4 feet) and a distance of 20 meters (66.5 feet). DJI drones can follow you at a much further distance than this.
Flight Safety
It is good to remember that the vast majority of Follow Me mode drones do not have object avoidance. Follow Me mode is great in wide open spaces or where there is enough space so that their is no break in the GPS signal.
Best practice is to plan your your route and be mindful or any obstacles that your drone could potentially crash into. You can also program your drone to fly above obstacles.
Nearly every drone today allows you to set a home point or a return to home function. It is always best practice to set your home point.
Remember to keep an eye on your battery and warnings. Don't get so carried away with follow me filming that you run low on battery power.
Best Follow Me Drones
Almost all of these drones featured below have extra intelligent flight modes such as Waypoints, Orbit, Points Of Interest which give you much more great filming angles and opportunities.
All of the drones below have tremendous gimbal and camera stabilization technologies for capturing awesome video and stills.
Theses drones are all very easy to fly. In our article entitled how to fly a quadcopter, we have excellent videos which show you just how easy it is to fly these latest drones.
Latest Drone That Follows You
New Skydio 2 Follow You Drone
The newest drone on the market, which has Follow You technology is the Skydio 2 drone.
Along with being a drone which can follow you, this quadcopter allows you to film stunning 4k video at 60 fps in HDR quality. You can also capture super sharp 12 MP HDR photos.
The Skydio has terrific intelligent filming and shooting modes including Dronie, Hover, Angle Track, Orbit and Cable Cam.
The Skydio 2 was designed in the USA. It is also manufactured and supported in the US.
The founders of Skydio are top graduate students from MIT. After finishing in MIT they helped start the Google's drone delivery program, called Project Wing.
Skydio was founded in 2014 and in 2018 they launched the Skydio R1.
Now, in 2019 we have their latest innovative drone, the Skydio 2.
Skydio 2 Innovative Technology
The Skydio 2 is a massive leap in technology from it's predecessor.
It has a flight time of 23 minutes and is exceptionally light at only 27.3 ounces (775 grams).
The Skydio 2 flies at a speed of 36 miles per hour (58 km/h). It has a max ceiling service of 15,000 feet, which is pretty amazing. It also has a transmission range of 2.17 miles (3.5 km).
There are 3 ways to fly the Skydio 2. The methods for flying the Skydio 2 is through using the Beacon, an App on your Smart Phone or by using the Skydio Remote Controller.
Skydio 2 Camera
The Skydio 2 has a terrific camera, which is designed around the Sony's IMX577 sensor and the RedDragon™ QCS605. It is capable of 4k video up to 60 fps with HDR.
The Skydio 2, features a dedicated photo mode for capturing 12 MP HDR photos for a variety of shooting options, including single, interval and more.
Skydio 2 Follow Me Mode
The Skydio 2 follow you technology uses the Skydio Autonomy Engine. This technology visualizes and calculates what's happening around the drone.
It can then intelligently predict what will happen next and will make accurate decisions multiple times a second.
The Skydio 2 follow drone uses 6 x 4k cameras to build a 3D map of its surroundings, which will include trees, people, buildings and more.
By seeing and understanding your movements along with what obstacles to avoid and what will happen next, the Skydio 2 quadcopter will follow you at all times.
When the Skydio 2 quadcopter is following you, it is using its full advanced vision system to track you through 3D space.
Using The Skydio 2 Beacon To Follow
Using the Skydio beacon will allow the quadcopter to follow you everywhere, even if it can't see you.
The Skydio Beacon can be used simultaneously with the Skydio app or as as an independent device.
When used with the app, Skydio 2 will be able to use the Beacon's GPS signal to follow you.
Skydio 2 Full Review
You can read our full Skydio 2 review here, which includes the tremendous features, specifications and excellent videos.
Here is a video, which shows you all the tremendous features including follow me mode on the Skydio 2. This drone certainly has the WOW factor.
DJI Follow Me Drones
Mavic Pro Quadcopter
The Mavic Pro drone has so terrific Follow Me autopilot modes. The Mavic is almost pocket sized, has a 4k camera and a 4.3 mile transmission range. It has 4 vision sensors, high precision satellite navigation and latest flight controls systems giving it the best autopilot systems to date.
Collision Avoidance
Having great follow me modes is terrific. However, without collision avoidance you have to be constantly aware of where you are flying and filming. Otherwise you can crash very easily.
Now the Mavic Pro has 4 vision sensors telling its flight control system what's below and in front. These vision sensors also work indoors giving it the smoothest flying and hovering of any drone to date. Here is some of the autopilot systems.
ActiveTrack Follow Me
ActiveTrack is the intelligent technology which gives you the various autopilot modes to follow, track and film with. The Mavic Pro has the following autopilot modes.
Spotlight – circle, follow behind or in front on an subject while stationary or moving.
Profile – fly alongside the subject.
Trace – keep the camera targeted on the subject while the Mavic flies.
Terrain Follow Mode – Program the Mavic to fly as the same level above ground no matter what the terrain is.
TapFly – tap the screen and the Mavic will fly in the straight line you tapped in the DJI Go App.
Note: Read further on the excellent features in this Mavic Pro Highlights and FAQs article.
Mavic – More Than A Following Drone
The Mavic Pro is being used for various applications outside of follow me filming. Because of its flight stability and excellent camera, it is being used for aerial cinematography, site surveying, 3D imaging of landscape and sculptures.
Mavic Pro Price
This market is very competitive at the moment and the DJI Mavic Pro for around USD 800. However, there are newer drones which would be around the same price but with some newer technology.
Now here's a terrific video and tutorial about the Mavic Pro Active Track Follow Me modes.
DJI Mavic 2 Follow Me Drones
The Mavic 2 Pro and Mavic 2 Zoom were just released on 23rd August 2018. These are almost identical in looks as the Mavic Pro above.
However, these new Mavic 2 editions are a massive improvement in nearly every aspect over the Mavic Pro, including better camera performance, video transmission, fight time, flight speed, less noise, omnidirectional obstacle sensing, intelligent flight modes and its unique Hyperlapse feature.
These new Mavic 2 drones can sense objects on all 6 sides. They can also fly around obstacles in front and behind using it's Advanced Pilot Assistance System (APAS).
DJI Mavic 2 Intelligent Flight Modes Review
The Mavic 2 Pro and Mavic 2 Zoom have plenty of terrific features, including the following autonomous Intelligent Flight Modes;
ActiveTrack 2.0
Hyperlapse
QuickShots
Points Of Interest (POI 2.0)
Waypoint Navigation
Cinematic Mode
TapFly
DJI Mavic 2 Cameras
Both Mavic 2 editions have the latest cameras and use DJI's latest 3 axis gimbal and camera technology, which guarantee smooth, stable footage in just about any situation. The filming output is absolutely stunning from the Mavic 2.
Mavic 2 Pro Follow Me ActiveTrack System
The Mavic 2 uses the DJI ActiveTrack 2.0 technology and can sense up to 16 subjects or persons as they become selectable on the screen in the DJI Go 4 app. You can then choose the right subject to track. The Mavic 2 quadcopter will adjust its flight to track the person or object.
ActiveTrack follows you even when running, jumping, or cycling. It can follow people, bicycles, cars and boats etc.
Mavic 2 Has Smarter, Faster And More Precise Follow You Tracking
The DJI Mavic 2 follow technology is even better than on their previous drones.
The Mavic 2 Pro and Zoom has better and more precise recognition of objects than previous drones. It uses smart new technology for trajectory prediction of objects and has high speed tracking of up to 45 mph (72 km/h).
There are a number of Mavic 2 ActiveTrack follow me modes including;
Trace Mode: This Mavic 2 Trace mode tracks the subject at a constant distance. It follows the subject and keeps it in the frame.
Spotlight Mode: The Mavic 2 Spotlight mode does not track a subject automatically but keeps the camera pointing in the direction of the subject during flight.
Parallel Mode: The Mavic 2 Parallel tracks the subject at a constant angle and distance from the front and side.
Read the full Mavic 2 Pro and Zoom review here, which includes terrific videos and show you everything there is to know about these top innovative drones. There is also a link to the Black Friday Mavic 2 deals which run from November 24th for 2 weeks.
Now, here is a terrific video, which shows you the Mavic 2 follow me ActiveTrack in action.
New DJI Mavic Air 2
Mavic Air 2 FocusTrack Follow You Technology
The new Mavic Air 2 released in April 2020, follows you by using different intelligent flight modes. FocusTrack is a new term being used by DJI for the Mavic Air 2 to track and focus on you, subjects, cars, bicycles, boats etc.
FocusTrack is made up of top 3 follow modes below. You also have Quickshots where the Mavic Air quadcopter will film you, keeping you in focus at all times.
ActiveTrack 3.0
Spotlight 2.0
POI 3.0 (Points Of Interest)
Quickshots
Mavic Air 2 ActiveTrack Follow Me
Trace: The Mavic Air 2 follows you at a constant distance and it works in all 3 flight modes (Normal, Sport, Tripod)
Parallel: The Mavic Air 2 follows you at a constant angle from the side. This also works in all 3 flight modes.
Mavic Air 2 Spotlight Follow Mode
Spotlight 2.0 allows the Mavic Air 2 camera to follow you or focus on an object keeping it in the center of the camera while you fly. You just select your subject and fly. You can change the distance, altitude and adjust the frame as you fly.
Points of Interest Follow Flight Mode
Use Point of Interest 3.0 to create an automated flight path on a fixed point or on yourself. The Mavic Air 2 will circle around, keeping the subject in the center of the frame. POI 3.0 can follow you or objects like people, cars, and boats.
Mavic Air 2 Quickshots
The quick shots quick are as follows;
Rocket: Ascend with the camera pointing downward
Dronie: Fly backward and upward, with the camera locked on you
Circle: The Mavic Air 2 circles around you
Helix: Fly upward, spiraling around you
Boomerang: The Mavic Air 2 flies backward around you in an oval path
Asteroid: The Mavic Air 2 flies backward and upward. It takes several photos, then flies to it's starting point
Mavic Air 2 Features
Let's take a quick look at some of the other features on the new Mavic Air 2 drones.
To read about all the amazing features and watch videos, then pop over to our DJI Mavic Air 2 review page.
Incredible flight time of 34 minutes when flying at 11 mph (17.7 km/h) in calm conditions
Mavic Air 2 can fly in winds up 24 mph (38 km/h)
Uses OcuSysnc 2.0 with a HDR video transmission of 6.2 miles (10 km)
Mavic Air 2 has an superb 48 megapixel camera to take photos up to 8k
Uses High Dynamic Range, color optimization and a new SmartPhoto mode to capture truly vivid photos
Shoot 4k video at 60p
Slow motion video at 240 fps, all in HDR
Excellent Obstacle Avoidance technology using Vision Sensors and ToF Sensors, along with APAS 3.0
Totally new Remote Controller making it very east to connect your Smartphone
Uses the DJI Fly app
Mavic Air 2 Price
Click on the below links to get the Mavic Air 2 latest prices .
DJI Mavic Air 2 Fly More Combo – Drone Quadcopter UAV with 48MP Camera 4K Video 8K Hyperlapse 1/2″ CMOS Sensor 3-Axis Gimbal 34min Flight Time ActiveTrack 3.0 Ocusync 2.0, Gray
【UP YOUR GAME】: The Mavic Air 2 camera drone takes power and portability to the next level. It combines a powerful camera with intelligent shooting modes for stunning results. Push your imagination to its limits because aerial photography has never been this easy.
【NEXT-LEVEL CONTENT】: Capture impressive 48MP photos with a 1/2-inch CMOS sensor while the 3-axis gimbal provides 4K/60fps video. The secret to incredible HDR video is a high-performance Quad Bayer image sensor. OcuSync 2.0 has a video transmission distance of up to 6.2mi / 10 km and can also deliver 1080p FHD resolution livestream directly from the drone's camera.
【IMPROVED FLIGHT】: An impressive flight time of up to 34 minutes allows you to pull off epic, fast-paced shots. Obstacle sensing in three directions makes it extra convenient for beginners and improves safety for your Mavic Air 2.
【INTELLIGENT TRACKING】: Mavic Air 2 features intuitive shooting functions that make aerial photography easier than ever. Spotlight 2.0 keeps the camera locked on a subject while you fly freely. ActiveTrack 3.0 keeps subjects centered. POI 3.0 tracks moving subjects like people and vehicles.
【APP COMPATIBILITY】: The DJI Fly app requires iOS v10.0, Android v6.0, or above. Compatible devices include: iPhone (11 Pro Max, 11 Pro, 11, XS Max, XS, XR, X, 8 Plus, 8, 7 Plus, 7, 6s Plus, 6s, 6 Plus, 6), iPad Pro (9.7''), iPad Air 2 (9.7''), iPad mini 4 (8''), iPad Pro (10.5''), iPad Pro 2018 11'', iPad Pro 12.9'', Samsung Galaxy (S20, S10+, S10, S9+, S9, S8+, S8, S7 edge, S7, S6, Note10+, Note9, Note8), Huawei (P30 Pro, P30, P20, P10, Mate 30 Pro, Mate 20 Pro, Mate 10, nova 5, nova 4, nova 3e, nova 2, Honor 8X, 10, 9, 20 Pro, Magic 2, Mi 8, MIX 2S, MIX 2, Redmi Note 5, Oppo Find X, R15, Vivo NEX, X27, X21, X20A, OnePlus 7, 6T, 5, Pixel 3 XL, 2 XL, 2, LG V20, LG G6, Sony Xpeial 1.
Best Mavic Air 2 bundle deals on Amazon.
Original DJI Mavic Air
Mavic Air ActiveTrack Follow Me
The first or original DJI Mavic Air drone, was released in January 2018, uses ActiveTrack Follow Me technology.
DJI's ActiveTrack technology doesn't require an external tracking device. The quadcopter just needs to be in P-mode and flying using your mobile device and DJI Go 4 app.
The Mavic Air ActiveTrack follow me technology can sense up to 16 subjects or persons. You can then select which person you want to follow in the DJI Go 4 app.
With this being DJI's latest drone on the market, the ActiveTrack follow you technology is much more precise than in the Phantom 4 Pro, Mavic Pro or Spark whether the person is running, jumping, or cycling. It can follow people, bicycles, cars and boats etc.
There are 3 Mavic Air follow me modes which are;
Trace Mode: Tracks the subject at a constant distance. It follows the subject and keeps it in the frame.
Spotlight Mode: Keeps the camera pointing at the subject during flight.
Profile Mode: Locks the subject in the frame at a constant angle and distance from the side.
Mavic Air New Innovative Technology
This latest DJI Mavic Air has more than just the ActiveTrack Follow Me technology.
It comes with great intelligent flight modes, such as QuickShots, SmartCapture, Tripod mode, Cinematic modes, TapFly and Points of Interest. Let's take a quick look at some more if the Mavic Air's innovative technology.
TapFly Intelligent Flight Modes
If you want to focus on your aerial filming or photography, then choose the Mavic Air TapFly mode in the DJI GO 4 app.
TapFly lets you fly wherever you tap on your mobile device screen in the DJI Go 4 app. TapFly works in Forward, Backward, Free, and Coordinate modes.
Forward: The Mavic Air will fly towards the target using the Forward Vision System sensing obstacles.
Backward: The Mavic Air will fly in the opposite direction of the target using the Backward Vision System sensing obstacles.
Free: The Mavic air will fly toward the target. However you can also use the remote controller to maneuver the orientation of the quadcopter freely.
Points of Interest Waypoints
With Points Of Interest, you select a subject or object and set the circle radius, flight altitude, speed, the the aircraft will fly around the subject according to the parameters.
Face and Hand Recognition
The Mavic Air can take off, fly and land using hand gestures. It also recognizes faces using it FaceAware technology and can film and take snaps using hand gestures.
There is so much more to this quadcopter. You can read our full Mavic Air review here.
Now here is a nice video showing you how ActiveTrack Follow Me technology works on the Mavic Air.
Phantom 4 Pro Follow Me Quadcopter
Highlighted in the earlier video, this UAV uses the ActiveTrack recognition technology to follow and film you. Along with Follow Me Mode, the Phantom 4 Pro has some other outstanding intelligent flight modes. This quadcopter has terrific stabilization and a 4k camera, which films spectacularly.
The Phantom 4 Pro v2.0 has the following autonomous follow modes;
Active Track (Profile, Spotlight, Circle)
Draw Waypoints
TapFly
Terrain Follow Mode
Tripod Mode
Gesture Mode
Obstacle Detection And Collision Avoidance
The Phantom 4 also has the latest collision avoidance sensors which mean that it will stop or avoid any obstacle it encounters. Without collision avoidance, if you overlook an obstacle in the follow me path, then unfortunately the mission will have an unhappy ending.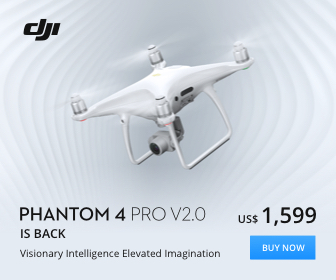 Phantom 4 Pro – More Than A Following Drone
Along with the latest Follow Me technology, this Phantom 4 is very adaptable and is being used by professional cinematographers, site surveyors and marketing companies.
The Phantom 4 is an excellent choice if you need to create 3D maps of land areas or a 3D models of structures or buildings. To create 3D maps or models, all you need is a Phantom 4 quadcopter along with a top photogrammetry software application.
The Phantom 4 Pro is so adaptable and can be used in almost every sector which requires an aerial solution.
Phantom 4 Price
For me, the Phantom 4 is by far the best value drone on the market. For all the latest autonomous flight modes, obstacle avoidance, terrific stabilization and a 4k camera, the Phantom 4 Pro is perhaps the best value for money quadcopter on the market.
The Phantom 4 Pro V2.0 started back in production in early 2020 and you can find our full Phantom 4 V2.0 review, which includes terrific videos.
Now, here's a tremendous positive use of drone Follow Me technology. Look how this athlete in the below video is benefiting from using a drone with Follow Me mode. The below video also shows you how easy it is to setup the ActiveTrack Follow Me mode on the Phantom 4.
This next video is test to see how good the Phantom 4 Active Track is at following various objects such as a car, train, person on a scooter, a beech ball and a scary spider etc. This gives you an idea of what you can film with the Phantom 4 and Phantom 4 Pro.
You can read further on the above DJI drones which are listed under DJI Consumer Drones on their website.
Walkera Drones That Follow You
From high tech aerial drones with intelligent flight systems, to racing drones, gimbals and cameras, Walkera Technology Co have a vast range of systems. Here is a look at the Walkera Follow Me drones.
Voyager 4 and Scout X4 Follow Me Drones
Both of these drone use the Follow Me GPS mode with Ground Station Controller. Both of these are fantastic drones.
Walkera never hold back when it comes to technology. The Voyager 4 is very similar to the DJI Inspire 1 and has some tremendous technology. The Scout X4 drone has may additional flight modes such as designated flight with 128 Waypoints, Orbit Object along with Follow Me mode.
The Voyager 4 has the following Follow Me Modes
Altitude Hold mode
Circle Flight mode
Destination Planning Waypoint
Fly Around Object
Voyager 4 – More Than A Following Drone
The Walkera Voyager 4 has an unbelievable 18 x optical zoom lens along 4k filming camera. This Voyager can do some serious site surveying getting clear pictures and film without having to get too close to a structure.
Walkera Voyager 5 Follow Drone
The Voyager 5 is the latest professional industrial drone from Walkera, released in early 2018.
The powerful Voyager 5 quadcopter integrates a vast amount of flight safety systems including dual IMU, dual compass, and dual GPS system, in order to make it very reliable and safe.
The Voyager 5 has a specially designed 3 axis gimbal to enable more stabilized footage. It uses an advanced shock absorption gimbal technology, which greatly reduces vibration and movement during flight, enabling the camera to capture stabilized and fluid footage even after magnifying the focal length.
There are 3 camera options for the Voyager 5 as follows;
30x Optical Zoom lens
Thermal Infrared camera
Low light night vision camera
Voyager 5 Collision Avoidance Technology
The Voyager 5 has front and downward collision avoidance technology.
The front facing infrared obstacle avoidance module, altimeter and optical flow positioning module, enable the Voyager 5 to better position and sense obstacles while flying, greatly reducing risks caused of crashes.
The Voyager 5 can detect obstacles up to 16 feet (5 meters) in front with a 30° horizontal and ±30° vertical field of view.
The downward vision sensor on the Voyager 5 works from an altitude of less than 10 feet (3 meters). Surfaces should have rich patterns and the lighting should be sufficient.
Walkera Voyager 5 Follow Me And Intelligent Modes
Follow Mode
Circle Flight
Waypoints
Walkera Vitus Pocket Sized Drone That Follows You
This Walkera Vitus is their latest release. This mini fold-up drone from Walkera uses SmartFollow. Using algorithm technology, objects can be automatically identified and followed. All you need to do is tap the screen on where you want the Vitus to follow. It is very simple.
It has a number of intelligent flight modes for following such as Orbit and Waypoint fly. Here is an excellent video on this new pocket sized drone from Walkera.
Yuneec Follow Me Drones
Typhoon H Follow Me Multirotor
Equipped with six rotors, a 360 degree gimbal camera, retractable landing gear, plenty of intelligent flight modes, the Typhoon H is among the best drones available today. An optional add on is the high performance collision avoidance module based on Intel® RealSense™ Technology and an advanced IR camera module.
The 360-degree gimbal with the new CGO3+ camera allows unlimited panning for breathtaking 4k videos and 12 megapixel stills. The landing gear retracts during flight to seamlessly remove itself from the shot for unobstructed views.
Follow Me Mode: There are 2 ways to setup Follow Me mode on the Typhoon H. You have the normal GPS Transmitter / GSC follow me mode.
Follow Me using Wizard Control: The Typhoon H comes with a Controller Wizard stick. This is a mini stick which you can control the drone to fly, follow and film you. The Wizard control can be used on its own or in conjunction with your mobile device.
The Typhoon H drone comes with flight modes for capturing unique aerial perspectives. These new flight and image capture modes include Follow Me, Point of Interest, Orbit, Curved Cable and Journey.
The Follow Me Modes on The Yuneec H are;
Orbit – Typhoon H flies a circular path around you, keeping the camera trained on you the whole time.
Point of Interest – Select a subject and Typhoon H will orbit that subject autonomously.
Curve Cable Cam – Program an invisible route for Typhoon H to fly along. Typhoon H will fly between pre-set coordinates while independently controlling camera position.
Journey – Typhoon H will go up and out, as far as 150 feet, and capture the perfect aerial selfie.
Follow Me / Watch Me – Follow Me ensures Typhoon H moves along with you. Watch Me tells Typhoon H to follow you while always pointing the camera at you wherever you go.
Typhoon H – More Than A Following Drone
This Typhoon H is being used by professional aerial cinematographers in a multitude of sectors. It has options to mount a thermal vision camera which makes it a big favorite of fire departments and SAR teams. It flies super stable and has an excellent camera and can be used to create excellent photogrammetry mosaics and 3D images.
Check out the Typhoon H over on the Yuneec website. This is a terrific multirotor. With the Typhoon H, you're are getting all the latest technology, collision avoidance, autonomous flight modes, a 4k camera and a real smooth flying experience.
Now here is a 2 terrific videos of Yuneec Typhoon H Watch Me / Follow Me technology. The Yuneec Typhoon H can follow an object at up to 50 mph.
Yuneec Breeze Follow Me Drone
The light, compact, high spec and fun drone from Yuneec was released in late 2016. It is controlled by your iOS or Android device (smartphone or tablet) using the Breeze Cam app and weighs just under 1 pound. For its size, the 4k Ultra High Definition camera on the Yuneec Breeze films absolutely beautifully. It is simple to fly and the Breeze is ready to go out of the box.
Featuring breathtaking 4k Ultra High Definition and ultra-clear 13 megapixel stills, Breeze is just as capable as drones twice its size. You can also enjoy a live 720 HD live stream of your flight on your smart device.
The Yuneec Breeze has 5 automated flight modes; Pilot, Selfie, Orbit, Journey, and VisionTrack.
Follow Me mode – Very easy to setup and in Follow Me, the Yuneec Breeze uses GPS to track your movement
Selfie Mode – Easily position Breeze to snap the perfect aerial selfie – prior flying experience not necessary
Pilot Mode – If you desire more control, Pilot mode allows you to fly using manual control
Orbit Mode – In Orbit mode, easily task Breeze to orbit around you or an external object
Journey Mode – By using camera pitch to calculate the trajectory of the aircraft, Breeze will fly away from you and then back to you
This Breeze drone is very extra safety sensors built in. It has optical flow and infrared positioning sensors which allow it to hold its position both indoors and outdoors. These sensors also keep the drone very stable. In other words, this drone won't drone no matter your environment. Additionally, there is an auto-landing and auto return-to-home feature – no flight experience is necessary.
The Yuneec is absolutely fantastic. It compact, easy to fly and great fun. It is also a pretty quiet drone. With the drone sector changing from week to week, well so do the prices.
Note: You can read more and find out the latest Yuneec Breeze price here. It a terrific quadcopter and very affordable.
Here is a terrific a real thorough test of the Yuneec Breeze which takes you through all the various flight modes for filming.
Drones That Follow You Continued
Hexo+ Follow Me Drone
The Hexo+ is super cool drone. It was designed specifically to follow and film you using only your smartphone. No remote control required. Follow me flight only takes a couple of taps in the software. Best of all, you get a terrific choice of follow me flight options such as;
Follow – Far Away or close
Hover – High or close
360 Degrees – Far away or close
Slide sideways from left or right
Towards me slide in
Slide out away from me
You can also fly the Hexo+ with a mobile device acting like a magic wand. Pretty cool indeed.
Hover Camera Follow Me Drone
The Hover Camera Passport is a lightweight fold up quadcopter which uses computer vision technology to track your face and body as it flies around you. It has a sturdy compact design and it is very easy easy to fly. This drone has a cool design in that its propellers are fully enclosed in a strong carbon fiber frame, thus making it safe.
The Hover Camera comes in at only 238 grams and will fly for 10-13 minutes. The software tracks you using your smartphone. The Hover camera also has the ability to shoot video in 4k resolution. Here is a nice video introducing you to the Hover Follow You Camera drone. It certainly was a massive hit at CES 2017.
Autel Evo Follow Me Drone
The Autel Evo aerial photography drone is a very easy to fly quadcopter, even indoors or at low altitudes. The EVO has a tremendous flight time of 30 minutes and a 4.3 mile (7 km) video range.
EVO includes a remote controller which houses a 3.3-inch OLED screen providing you with critical flight information or a live 720p HD video feed letting you see the camera view without the need for a mobile device.
With Dynamic Track, Obstacle Avoidance and 3D Mapping technology, EVO takes safety and stability seriously.
Autel Evo Follow Me Modes
The Autel Evo has autonomous flight features like Dynamic Track, Viewpoint and Orbit. Other features include VR first person view and Waypoint mission planning.
Autel Evo Obstacle Detection And Collision Avoidance
Utilizing two cameras on the front giving it binocular vision EVO creates a 3D environment and reacts to obstacles in the way. Intelligent algorithms are constantly running during autonomous flight, making long-range decisions for path planning around obstacles
Two ultrasonic sensors paired with two more computer vision cameras on the bottom of EVO, help protect the aircraft from landing on unlevel surfaces. Using the precision landing feature the cameras on the bottom of EVO will capture reference images and use them during the return to home providing pinpoint precision during the landing sequence.
On the rear of the aircraft, EVO is equipped with a near IR sensor protecting you when flying backward autonomously.
Autel Evo Aerial Drone Camera Specifications
The Autel Evo is equipped with a powerful aerial camera on a 3-axis stabilize gimbal, which records video at 4k resolution up to 60 frames per second and a recording speed up to 100 mbps in H.264 or H.265 codec. Using real glass optics EVO captures stunning aerial photos at 12 megapixels with a wide dynamic range for more details and color.
Resolutions: 4k/12 MP camera
FOV: 94°
Video: 60 FPS video
Sensor: Sony CMOS 1/2.3″ sensor
Aperture: F2.8
Image Processor: Ambarella H2
Supported SD Card Types: Micro-SD Card up to 128 GB Class 10
File Formats: Photo: JPG, RAW, JPG+RAW
Autel Evo Aerial Camera Modes:
Single shot
AEB – 3/5
Burst shooting – 3/5/7/14
Time lapse – 2/5/7/10/20/30/60
Autel Evo Video Resolution
4k 3840 x 2160
4k+ 4096 x 2160
2.7k 2720 x 1530
1080P 1920 x 1080
720P 1280 x 720
Video Frame Rate: 240 FPS, 60 FPS, 48 FPS, 30 FPS, 24 FPS.
Now to finish, here is a look at the Autel Evo Dynamic Track mode.
Read more terrific drone articles from the below categories;