A great educational drone doesn't cost you a fortune and at the same time gives you everything you need to build and code the UAV.
There are quite a few drones for education available, whether you want to learn at home, in the classroom or on a University program.
Along with fun learning to build and code, these educational drones are all terrific to fly. They are also very reasonable priced.
The top drones on the market are all beautiful to fly with exceptional stability. They have excellent cameras to film with and come with software development kits (SDK) for programming. However, these drones can be relatively expensive so are not ideal to learn coding.
Here we highlight the best drones for education, which give you all you need to build and code. These educational drones include online drone classes, curriculum, material or courses.
Along the way, we've included some very interesting and educational drone videos. Also, you will find plenty of knowledge in our educational drone articles here, which include the various sensors which can be mounted on a drone.
Best Drones For Education
These educational drones are priced low and have excellent programs to learn how to code and build each UAV;
Robolink CoDrone Lite & Pro educational kit
Sky Viper e1700 stunt drone kit
DJI Tello EDU drone
DJI Tello Iron Man edition
Parrot Mambo Fly educational drone
Makeblock Airblock educational drone
Dronea Aviation PlutoX kit
3D Printed mini drone
All the above are great educational drones and also terrific fun. The drones here are designed around STEAM learning principles. There are also very competitively priced.
What Exactly Is STEAM Education
STEAM is an educational approach to learning, which uses Science, Technology, Engineering, the Arts and Mathematics as access points for guiding student inquiry, dialogue and critical thinking.
The end result is students who take thoughtful risks, engage in experiential learning, persist in problem solving, embrace collaboration and work through the creative process.
Now lets take a look at these excellent educational drone and their features.
Drones For Education
Robolink CoDrone Lite And Pro UAVs

For STEAM Education
Established in 2012, Robolink's goal was to encourage students to learn about STEM (Science, Technology, Engineering, Math) in an engaging way, with robotics kits including the CoDrone Lite and Pro educational drones.
Robolink Online Drone Curriculum And Learning Centers
Not only do Robolink develop the educational drones, they also provide you with a drone curriculum learning platform along with a community forum.
At present, Robolink operate in two learning centers in San Diego.
They also ship their CoDrone Lite and Pro educational drones all across the world.
CoDrone Lite Educational UAV
The CoDrone Lite includes the drone, which has Bluetooth (BLE) technology on board to allow your computer to communicate with the CoDrone.
You will learn how to program this educational drone using block coding in Snap and text-based coding in Python. In the near future, you will be able to code the CoDrone in Blockly.
CoDrone Features
Flight Time: 8 minutes
Flight Range: 160 feet
3 axis gyroscope
3 axis accelerometer for altitude control
Hovering: Uses optical flow sensor
Infrared Sensor for educational games
Barometer Sensor to assist with altitude control
Weight: 1.3 ounces (37 grams)
Bluetooth: 4.0
CoDrone Pro Educational UAV
The CoDrone Pro is the same as the CoDrone Lite. The Pro model is everything the CoDrone Lite is and also the Arduino based remote. Text based coding is done in the Arduino coding environment or can be programmed in Python in the CoDrone Lite setup.
CoDrone Price
This educational drone has a price at the time of writing as follows;
CoDrone Kits For The Classroom
Robolink have put together drone kits for the classroom, which are as follows:
CoDrone Pro Classroom Set – USD 1699.99
CoDrone Lite Classroom Set – USD 1369.99
These packages include 12 CoDrones and with the Pro package you also receive 12 remote controllers.
Robolink recommend no more than 2 students for each drone in the classroom.
Here is a nice video from CES 2018, introducing the CoDrone Lite and Pro drones along with the programming languages.
Sky Viper e1700 Stunt Drone Kit –

UAV Education Through Building Drones
Building your own drone is the best way to learn about the components, which make up your typical drone. The Sky Viper e1700 is an excellent reasonably priced drone so you will have great fun building and flying your own high performance drone.
The Sky Viper e1700 stunt drone builder kit includes everything you need to build this drone from the ground up.
The control board is based on drone racing platforms with the Sky Viper e1700 able to fly at 25 mph (40 km/h), which is tremendous for it's price range and size.
Sky Viper e1700 Educational Drone Features
8 x One Touch stunts: Press and hold the left controller to perform flips and barrel rolls with a simple tap of the directional stick.
Dual Flight Modes: Choose between auto and manual modes. With the auto mode, your altitude is maintained hands free so you can fly forward, backward and sideways at the same height.
Flight Sensitivity: Adjust control responsiveness to match your piloting skills.
Auto Launch & Land: Launch to a stationary hover by simply pressing a button. Press the button again to automatically land with gentle precision.
Sky Viper e1700 Components In The Box
Main body frame
Flight controller board
Top & bottom covers
650 mAh LiPo battery & charger
Battery tray, compartment insert & cover
4 motors
4 green propellers
2 green & 2 red arm covers
4 blade guards
2 pro style thumb sticks
2 joystick thumb pads & covers
Power & stunt buttons
Antenna housing
A sensitivity switch
Front & rear controller housing
USB LiPo battery charger
Transmitter circuit board
Screws & screwdriver
Manual
The Sky Viper e1700 price is amazingly low and is great fun to build and fly.
Sky Viper e1700 Stunt Drone Builder – Build Your Own Drone
Sky Viper Drone Builder app makes assembly easy with step-by-step animated instructions
Improved Auto Hover allows you to release the left thumbstick until the next command
Flight sensitivity allows you to choose the responsiveness to your controls based on your skill level
Flight Controller board comes pre-programmed with ViperFlight 5, a state-of-the-art control firmware based on platforms commonly used in racing-class drones
Dual Flight Mode provides choice of auto and manual flight
It is also one of the best platforms to gain an education in drone technology and components.
DJI Tello EDU

Drones For STEAM Education
With STEAM and robotics becoming increasingly critical elements of a modern education, it is important for students to develop a passion and foundation in these subjects at an early age.
The DJI STEAM program is working to combine advanced technology and education, making STEAM more relevant and exciting to young people around the world.
Tello Educational Drone
DJI teamed up with Ryze Robotics to create the Tello drone. It's an impressive and programmable drone perfect for education.
With this educational drone, you learn to code in programming languages in Scratch, Python, and Swift with the Tello special development kit giving you a huge range of commands to work with.
Here are some of the features of the DJI Tello educational drone.
Auto take off & landing
Low battery protection
Failsafe protection
Vision Positioning System
720p HD video transmission
5 megapixel photos
13 minute flight time
Precise hovering
Program a swarm of drones
Mission pads for multiple uses
Multiple flight modes
Special development kit (SDK)
Swarms of Tello EDUs
The Tello is an highly intelligent educational drone. Perhaps, its most amazing intelligent feature is that you can write code to command multiple Tello EDUs to fly in a swarm.
Tello EDU Mission Pads
The Mission Pads, which come with the Tello EDU, allow for better coding and programming precision. They serve as guiding points and trigger mechanisms for numerous flight and landing operations.
Tello EDU Image Processing & Artificial Intelligence
With the Tello EDU, you can access video streaming data. It also has advanced functions such as object recognition, tracking and 3D reconstruction, computer vision with deep learning technologies.
Tello EDU Block Programming
The Tello EDU is a mobile programming app, which supports Scratch block programming. This allows you to command Tello to perform corresponding movements by dragging coding blocks on a smart mobile. It greatly assists with the learning of programming skills by playing games and completing levels.
Fun Programming
There is a special Tello Space Travel tutorial, which teaches you how to use the Swift programming language to code on an iPad.
Now, here is a nice introduction to the Tello EDU drone from DJI.
DJI Tello Iron Man Educational Drone
The DJI Tello Iron Man is much the same as the Tello EDU, with the main difference been the frame designed around the Iron Man character and movie theme. It includes the following;
Tello Hero App – provides an immersive experience and a peek into Iron Man's world. With FRIDAY, Iron Man's AI assistant, you can complete missions, while exploring Tello's expansive range of possibilities. It comes with a comprehensive user guide showing you just how easy it is to fly.
Intelligent Flight Modes – with creative features like 360, Throw & Go and 8D Flips, it makes flying a lot easier and plenty more fun.
Excellent Camera & FPV – with 720p HD transmission, 5 megapixel photos and Electronic Image Stabilization.
Flight Time – up to 13 minutes of flight time and a 300 feet (100 meter) maximum distance.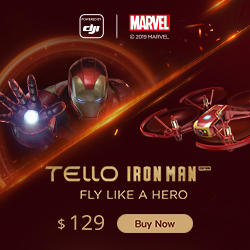 Learning And Coding Tello Iron Man
Tello Iron Man Edition supports the Tello EDU app, mentioned above and also the Swift Playgrounds app. It also supports Python and Scratch programming languages, which is the same as the Tello EDU.
This next video shows you how simple it is to program the Tello educational drone.
Drones For Education Continued
Parrot Mambo Fly Educational Drone and Apps
The Parrot Mambo mini quadcopter drone is intelligent, robust and very easy to fly.
It is one of the most stable mini-drones on the market due to its intelligent autopilot system, advanced flight controller and powerful sensors. This technology makes the Parrot Mambo easy to fly indoors and outdoors.
It's so easy that even if you let go the controls, it remains stable. The autopilot takes over. Another excellent feature is the "cut-out system" where the motors shut down in case of an impact.
The Parrot Mambo has a flight time of 9 minutes without the attachments. The battery takes only 30 minutes to charge. It's always a good idea to have a few spare batteries.
IMU, Accelerometer and Gyroscope Technology
This amazing quadcopter has an Inertial Measurement Unit to evaluate speed, tilt and obstacle contact. It has a 3 axis accelerometer and 3 axis gyroscope for excellent flight stability.
For a drone to fly perfectly, the IMU, gyro stabilization and flight controller technology is essential.
You can read further on this topic in our excellent easy to read article entitled "Drone Gyroscopes, IMU And Flight Controllers Explained".
Parrot Mambo Fly Follow You And Camera
The Parrot Mambo has follow you technology and can take photos with its integrated 60 frames per second vertical camera. These photos are automatically saved to your phone.
Parrot Mambo Accessories
The Parrot Mambo has a patented Smart Block system, which allows you to connect accessories to the drone. You can equip the Parrot Mambo with a cannon, a grabber or the FPV camera. These accessories give you plenty of fun and opportunities to program using the Parrot educational drone apps.
How To Fly the Parrot Mambo
You control the Mambo Fly from your smartphone or tablet with the FreeFlight Mini app, which will give you a flight range of 65 feet (20 meters).
Alternatively you can fly the Parrot Mambo with the Flypad remote controller, which will give you a flight range of 328 feet (100 meters).
Parrot Education For Drone Programming
Parrot Education was launched to support the drone revolution occurring in homes, classrooms, academic institutions and universities across the globe.
From primary schools to PhD's, drones offer an astonishing new aerial perspective with countless applications across science, technology, engineering and mathematics (STEM), as well as in film, media, and journalism.
Parrot have partnered with one of the best coding platforms to offer loads of options to code drones in your home, classroom, college or University.
With the Parrot Mambo educational drone, you can learn to block code in Tynker and Blockly. You can also learn text coding in JavaScript, Python and other languages including full support for Apple Swift Playground.
Drone Educational Bundles For The Classroom Including Curriculum
Parrot have designed drone bundles for the classroom. These educational bundles include drones, spare parts, accessories and the coding drone curriculum. These drone education bundles can be ordered directly from their EDU store here.
You can also avail of the Parrot drone educational bundles through FTW Robotics, which are also a re-seller for Parrot. They are an excellent company and can be contacted directly for quotes, tax exemption forms, and place orders. Here is the direct link to the Parrot Mambo from FTW.
FTW Robotics is dedicated to promoting STEM through the use of drones in schools. There drone program explores the STEM Principles behind drones and their use in society. Students work through curriculum, activities and quizzes to gain a well rounded perspective on this emerging new drone technologies.
Parrot Developer Platform
As well as the educational drones and coding curriculum including apps, Parrot have an excellent developer forum.
Parrot Mambo Price
The Parrot Mambo Fly price is listed with a price of USD 215 from FTW Robotics.
Here is a nice video on programming robots using Swift Playgrounds.
Makeblock Airblock Drone For STEAM Education
The Makeblock Company was founded in 2013 and is a global leading STEAM education solution provider.
STEAM Education is a new teaching concept which integrates the Arts with the traditional STEM subjects: Science, Technology, Engineering, and Mathematics. It emphasizes practice based learning concepts instead of just theoretical knowledge.
Practice based learning encourages students to participate in projects, which they are interested in and also allows them to conceptualize technology they are familiar with.
With STEAM, students will gain comprehensive skills such as critical thinking, problem solving, creativity, innovation, and collaboration. The skills they learn through practice based learning will enhance and spark future generation in STEAM education.
Airblock Educational Drone
The Makeblock Airblock educational drone, along with it's STEAM education is for the hobbyist, families, schools and educational institutions.
The Airblock educational drone is made up of 1 core master module and 6 power modules. They connect to each other magnetically so the UAV is built quickly. It can also be built into a hovercraft or a variety of other DIY configurations.
With the Makeblock software, anyone can get started quickly. This Airblock educational drone will teach you block based programming, the principles of aerodynamics, exercise logic and develop your critical thinking skills.
Airblock has won several awards including the German iF Design Award, the German Reddot Product Design Award, the Korean K-Design Award, the American IDEA Award for Makeblock Neurons, the Japanese Good Design Award and other international industrial design awards.
The Airblock is for anyone wanting to learn about drones including kids in elementary education.
Airblock Specifications
Here are a just a few of the Airblock educational drone specifications;
Battery life: 6 – 8 minutes.
Weight: 5 oz (141 grams).
Control Distance: 33 feet (10 meters).
Connectivity: Bluetooth.
Electronic Sensors / Modules: Ultrasonic, Barometer, 6 Axis Gyroscope, Bluetooth, 6 Hollow-cup motors, RGB LEDs.
Makeblock Programming Software For Drone Education
Makeblock has developed a series of programming suites for STEAM education. Their mBlock 5 is a powerful platform supporting block based and text based programming.
The Makeblock App is an all in 1 controller for Makeblock robots offering a comprehensive robotics experience for beginners. Their Neuron App is a flow based programming software with AI and IoT support, encouraging creations using Makeblock Neuron blocks.
The Makeblock software makes coding interactive, easy and fun. To date, the total number of Makeblock software users exceeds 8 million and continues to grow.
MakeBlock Airblock Price
The Airblock educational drone price is USD 99.00, which is great value. However, at the time of writing, the Makeblock Airblock is out of stock.
Now Makeblock have plenty of robots, educational lasers and even 3D printers for learning. Here is the URL to the MakeBlock home page.
Here is a nice introduction to the Makeblock Airblock drone.
Dronea Aviation PlutoX Educational Drone Kit
Dronea Aviation is an Indian IT startup working with drones for 8 years. They have won awards in competitions globally including IMAV France, ICUG Spain, MICAV Bengaluru, Techfest Mumbai among others.
PlutoX Drone Kit
The PlutoX is designed for those who want to fly and also want to experiment, build and design. The PlutoX product is an "Aerial Robotics Kit" which you can configure and program.
Listed on Indiegogo, the PlutoX comes with the following;
PlutoX nano-drone
A detailed learning manual
10 DIY projects
Hardware accessories (including WiFi camera, range sensor and DC geared motors)
Easy to code software
Modular hardware (listed below)
PlutoX Drone Kit Hardware Components
You receive all the following in the kit
The PlutoX Drone, fully assembled
A 600 mAH LiPo battery
A video camera for the drone
A blank BasicX Expansion Card
A BasicX Expansion Card with two VL53LOX ToF sensors
Two geared DC motors
Two small wheels for the geared DC motors
Two spare quadcopter motors
Spare propellers
Stickers & Drona Aviation badge
PlutoX Programming
Cygnus IDE is at the center of the PlutoX software development, allowing you to create real world applications for drones.
The SDK has an API based Arduino like interface. Using the open-source Cygnus IDE, PlutoX allows easy modifications by simply flashing a pre-written code through a phone app called Pluto.
Now, to be able to program with Cygnus IDE, you would need to be comfortable with the syntax of the C++ programming language.
PlutoX Specifications
Here are some of the features and specifications.
Flight Time – 9 minutes
Payload – 15 grams
Communication – WiFi 196 feet (60 meters)
Frame – Open Source and modifiable
SDK – API Based Interface
PlutoX Project on Indiegogo
The PlutoX is almost complete and ready to ship. It is listed on Indiegogo and you can check out the PlutoX project here.
Here is an excellent video introducing you to the PlutoX, including the components and programming.
Drone Education Building A 3D Printed Mini Quadcopter
If you love learning about drones, then you will also find the world of 3D printing very fascinating.
The next video and links show how you merge these technologies by building your own 3D printer and also the frame of your mini quadcopter.
The video also shows you how to build the fast mini quadcopter.
Building this 3D frame and mini quadcopter will definitely bring your drone education to the next level giving you an excellent understanding of the hardware and components.
You will also learn how to configure and calibrate the drone using Betaflight flight controller software. This software can also be used to test the direction of the drone motors. You can also change the motor direction using the BLHeli-Configurator software.
To build this 3D printed drone, you need to have some soldering experience. You can learn how to solder here.
The 3D printer is the Original Prusa i3 MK3S kit. This comes with everything you need to build the 3D printer, including excellent manuals. You can also watch this video entitled "Building the Original Prusa i3 MK3"
The instructions on how to build the drone and the components you need are in this article entitled "How To Build A Cool & Cheap 3D Printed Micro Drone".
The instructions and drone parts required to build the drone on the 3D printed frame in the video is as follows;
Components For 3D Printed Frame
HGLRC F428 Flytower flight controller and regulator board
4x Racerstar RC1103B 8000kV motors
2 pairs of 2035 propellers
Giant Power 2S 300mAh Lipo battery
Charsoon Lipo battery charger
FlySky FS-i6 radio transmitter
FS-RX2A Pro Receiver
JST battery connector
3-wire servo cable to connect receiver to flight controller
3D Printer frame from Prusi i3 MK3S printer
FPV camera
3D Printed Drone Optional Accessories
Eachine VR D2 Pro FPV Goggles.
Read more terrific drone articles from the below categories;